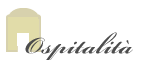 "The Duke room" suite on the first floor of the house and "Houses of Artale" a cottage, surrounded by vineyards and olive groves with swimming pool, 2 to maximum 4 people, offer the opportunity for tourists to enjoy moments unique relaxation.

Loconovo of Amari is just four kilometers from the archaeological park of Selinunte, its beaches where the golden honey color of the sand is mixed with the intensity of a clear sea, clean, and some restaurants at the seaside typical a fishing village at the Mediterranian.
For a tourist spending a few days in the bitter experience means where myth meets history, with a family who have gone through the vicissitudes of Sicily. In a unique natural environment combines the culture and sophistication of hospitality that can give magical and unforgettable moments, in a context of a country house by the owners lived with an elegant style and simple.

Being just a few kilometers from Castelvetrano toll motorway Palermo-Mazara del Vallo and the freeway Sciacca-Agrigento allows Loconovo of bitters was a privileged starting point for day trips throughout the western Sicily, Segesta, Trapani, Erice, Marsala, Mazara, Gibellina , Salem, Agrigento and Sciacca. Tourists can also enjoy cultural intensive summer time with Orestiadi in Gibellina and I teatri di Pietra at Selinunte.